The Guardian Series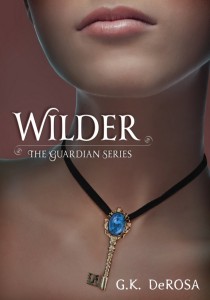 Book 1:
All that Celeste Wilder ever wanted was to find someone who would sweep her off her feet like she had seen in countless romantic movies. When she meets the gorgeous and mysterious Constantin brothers her senior year of high school, she gets much more than what she had bargained for. As they introduce her to an exciting supernatural world that she never imagined existed, she makes a startling discovery about her own family legacy and is forced to make a decision that will change her life forever. Buy now!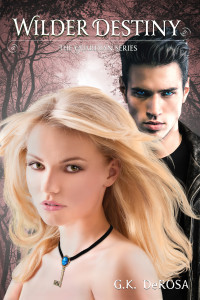 Book 2:
Celeste Wilder's mundane world has been completely turned upside down, and it all started when the intriguing Constantin brothers strolled into her small town last summer. After discovering the truth about her destiny and making a life-changing decision, she is now forced to deal with the consequences of her new supernatural reality. Gone are the carefree days of high school and homework, now she must fulfill her duty as a Guardian…no matter the cost. Luckily, she has the love of her life by her side as she battles the supernatural forces of evil, but will that love really last forever? As new challenges arise and old enemies reappear, Celeste must find the strength to overcome the biggest threat she's ever had to face. Buy now!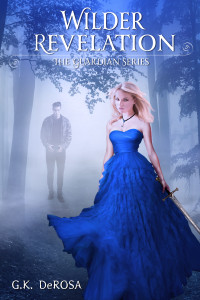 Book 3:
Fulfilling her destiny and becoming the Guardian has meant a world of sacrifices for Celeste Wilder, but her most difficult challenge is yet to come. The supernatural forces at play are far more powerful than she ever expected, and she will have to trust her instincts if she hopes to survive. Lilliana Constantin is back from the dead. Alek is free and somehow stronger than ever. A pack of rogue werewolves are wreaking havoc in her small town. And on top of all of this, Celeste faces what is at best an uncertain future with the love of her life.
While battling the forces of evil and saving the human world alongside Stellan and the handsome Constantin brothers has become second nature, Celeste had no idea what accepting her duty as the Guardian would actually cost her. When she faces an unspeakable tragedy, she is pushed to her breaking point. After fighting her most formidable enemies, Celeste is about to discover that sometimes the greatest evil is the one that comes from within. Buy now!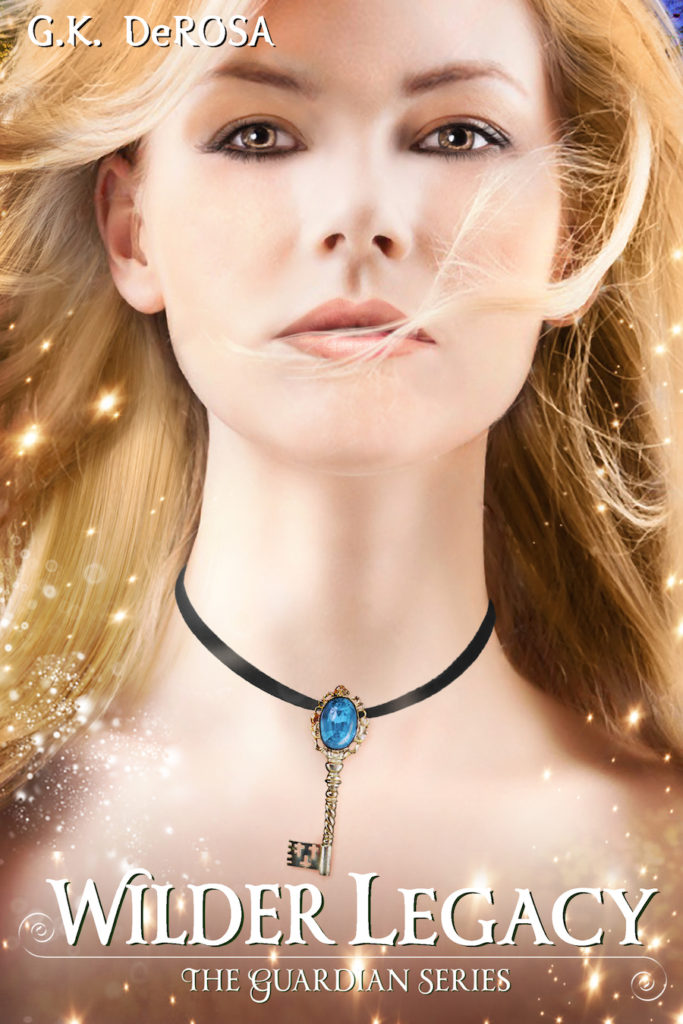 Book 4:
The life of a Guardian is a dangerous one, and with everything Celeste has lost in the past year, will she find the strength to continue on?
Battling the growing evil inside her proved to be Celeste Wilder's most formidable challenge—and the fight isn't over yet. As her Guardian skills continue to strengthen and tangle with the power of the Albsurori ring, new and old enemies emerge to conspire against her and the Constantin brothers alike.
When news breaks about an attempt to free Brazen, the rogue Alpha, Celeste must rely on unlikely allies, causing her to question the loyalties of everyone around her. With Alek looming continuously in the background and Brazen's foreboding final words to her, there seems to be no end in sight to the struggle.
To top it all off, Roman has always remained by her side, but the discovery of another Wilder family secret may threaten their future forever. Buy now!
Finding Wilder: A Guardian Series Novella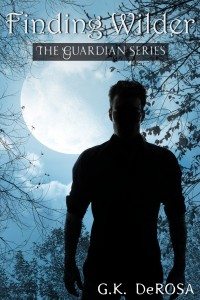 Nico Constantin is handsome, charming, and above all mysterious. When he and his brother Roman return to the quiet town of Oak Bluffs, they bring with them an unforeseen amount of supernatural baggage. And no one is affected more so than the innocent Celeste Wilder, who is simply trying to finish her senior year of high school. As the brothers struggle to keep her safe from her inescapable destiny, one thing is certain: nothing will ever be the same for any of them. Buy now!
*Companion novella and can be read at any point in the series
Supernatural Bites: Four Urban Fantasies To Sink Your Teeth Into
Box Set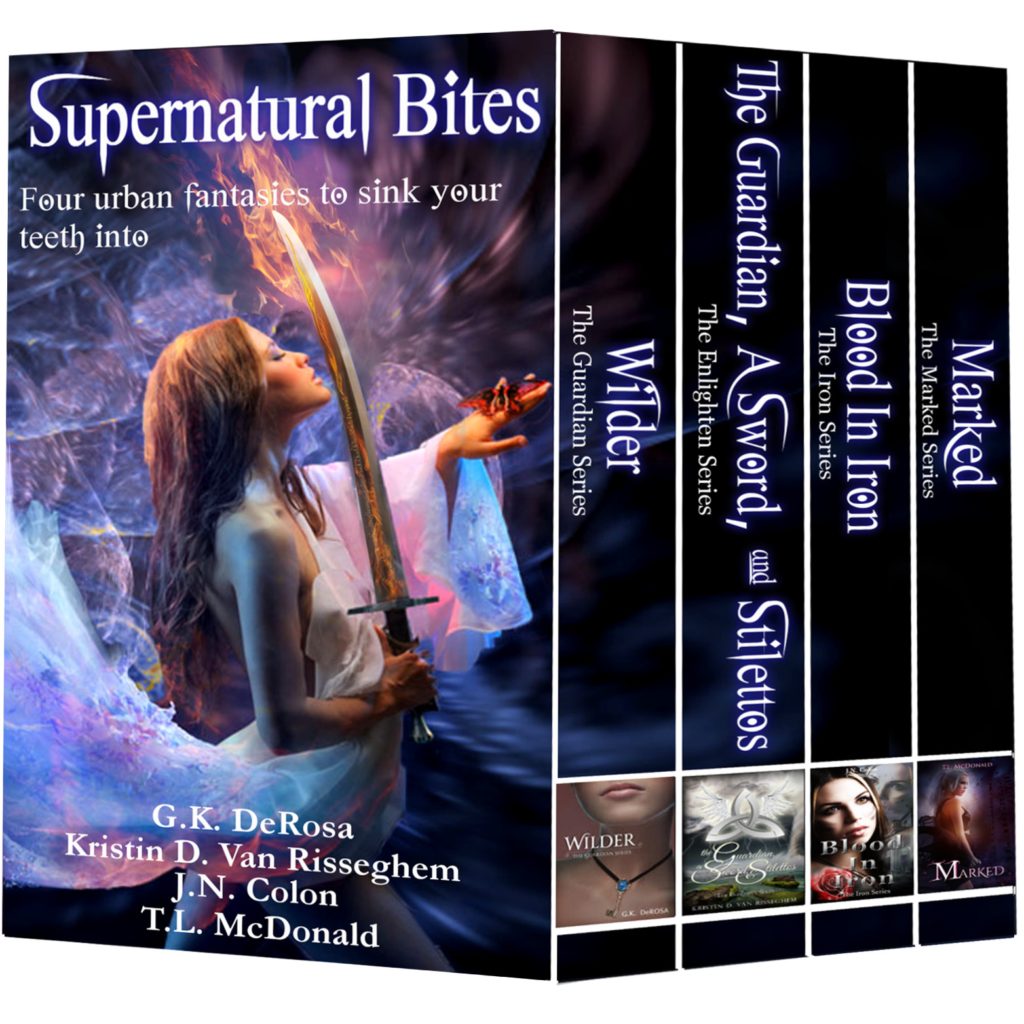 Guardians, Werewolves, & Demons…Oh My!
Prepare to be immersed into four full-length YA urban fantasy tales of guardians, vampires, angels, werewolves, demons, and magic. There's nothing normal about these paranormal tales of strong heroines battling against the world of the supernatural. These fantastical stories will be sure to keep you at the edge of your seat and hungry for more! Buy now!
Featuring:
Wilder: The Guardian Series by G.K. DeRosa – Two mysterious, gorgeous brothers. One typical high school girl. A key that unlocks a family secret… When Celeste Wilder met the intriguing Constantin brothers, she knew her life would never be the same again.
The Guardian, a Sword, and Stilettos by Kristin D. Van Risseghem – seventeen-year-old Zoe must devise a kick-ass plan ASAP to save the world or watch everyone die, because she's running out of time. She turns eighteen in two months—the date Armageddon kicks off.
Blood in Iron by J.N. Colon – Koralein Colt, a rebellious teen with a snarky attitude and even worse temper, learns there are worse things than human criminals stalking the streets at night—and she was born to hunt them.
Marked by T.L. McDonald – Witnessing a murder, Hanna Harper is branded with a mystical symbol by the dying boy containing a secret powerful enough to bring about the apocalypse. Now fallen angels are after her and the secret she's been entrusted to keep. And if they get it, the whole world just might end.
This spellbinding urban fantasy book bundle by four best-selling young adult authors is available for a limited time only. Don't miss out!