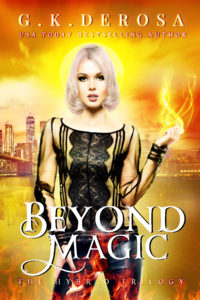 I'm so excited to announce that Beyond Magic, the last book in The Hybrid Trilogy is up for pre-order and will be released on January 23rd! I can't wait for you all to read the end of Aria's story.
Being a witch-vampire hybrid isn't as awesome as it sounds.  
All Aria ever wanted was to find her family and discover who she really was. So far, it's been more trouble than it's worth. On top of uncovering the truth about her magical hybrid heritage, her possibly evil half-brother, Alek, has appeared. There's nothing she wants more than to trust him, but after all the horrible things he's done, how can she?
As if dealing with her crazy family and learning to control powerful new abilities weren't enough, the immortal Venator are getting stronger and nearly impossible to kill. The High Priestess wants her dead, the vampires want her powers and all Aria wants is a normal life. And maybe a hot guy or a vampire on her arm. The problem is, she doesn't know if she'll even live long enough to choose.
Don't miss the epic conclusion to the bestselling Hybrid Trilogy!