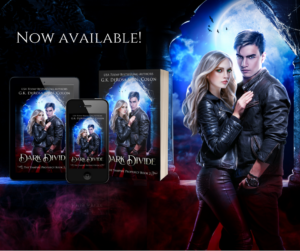 Dark Divide is here! Don't miss the exciting next chapter in Solaris and Kaige's epic adventure. Grab it here.
Secrets have a way of coming out.
Divided by the dark wasteland between worlds, Kaige and Solaris deal with the consequences of their blood bond and the dangerous secrets they share.
Their attempt at normalcy is quickly interrupted when Solaris stumbles upon a gruesome discovery in Imera, one The Collective would kill to keep quiet.  Kaige risks everything to save her, realizing becoming king is the only option.
With Solaris in hiding, their forbidden feelings spiral out of control. As Kaige struggles to protect her, they learn the truth behind Draconis's darkest secret.  As it turns out, the prophecy isn't the only thing threatening all of New Isos.
Enemies span both sides of the divide, and they're rapidly closing in on the star-crossed pair.
Can Kaige and Solaris find a way to stop the hidden horrors within their worlds before the truth gets them killed?