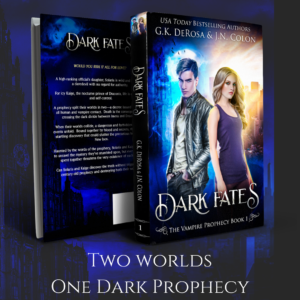 I'm so excited to share the awesome cover of Dark Fates, the first book in my new co-authored series, The Vampire Prophecy. I've teamed up with my fellow author, J.N. Colon to bring you this new YA paranormal romance with a dystopian twist. If you liked Bella Forrest's A Shade of Vampire and Victoria Aveyard's Red Queen, you'll love this epic tale of forbidden love and dark prophecies.
Check out the blurb:
Would you risk it all for love?
A high-ranking official's daughter, Solaris is wild and reckless, a daredevil with no regard for authority. For icy Kaige, the nocturne prince of Draconis, life is discipline and self-control.
A prophecy split their worlds in two—a decree issued outlawing all human and vampire contact.  Death is the consequence for crossing the dark divide between Imera and Draconis.
When their worlds collide, a dangerous and forbidden string of events unfold.  Bound together by blood and secrets, they make a startling discovery that could shatter the precarious balance of New Isos.
Haunted by the words of the prophecy, Solaris and Kaige attempt to unravel the mystery they've stumbled upon, but every moment spent together threatens the very existence of each race.
Can Solaris and Kaige discover the truth without triggering the century old prophecy and destroying both their worlds?
Keep an eye out for the big release on April 24th! Followed by books two and three in May and June 🙂