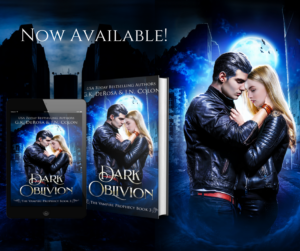 It's release day for Dark Oblivion! I'm so excited for you all to read the last book in the series. As always it's bittersweet to see the end of Solaris and Kaige's journey, but I hope you enjoy the epic finale 🙂 Grab it today!
There's no stopping a prophecy.
Solaris and Kaige can no longer deny their feelings. And their world is about to pay the ultimate price.
Death is quickly spreading through Imera, endangering all the inhabitants of Draconis in the process. Synth is running out, and the nocturnes are becoming dangerously restless. When rations dip too low for the taranoi, a rebellion erupts and not everyone makes it out alive.
The forbidden couple's secrets are exposed, making neither world safe for the star-crossed pair. As their enemies draw ever closer, Kaige and Solaris take refuge in the ominous Shadow Lands. There they stumble upon a pivotal discovery that could change everything.
Can Kaige and Solaris stop the disease ravaging the humans and save the nocturnes or will they all perish as the prophecy foretold?
Happy reading!
G.K.